WELCOME TO GOSHEN BUICK GMC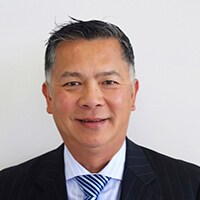 DZUNG NGUYEN
Owner, Goshen Buick GMC
2012 Asian Dealer of the year
chosen by the Divisive Media
2013 & 2014 Hyundai President's Award
top Hyundai Dealership for Customer Service
2006-2015 Centeral Region #1 Sales Satisfaction
top Hyundai Sales Satisfaction Dealer in Region
Multiple Top Customer Service Awards for Service Department
Dzung Nguyen (pronounced as Zung Win), a native of Saigon, South Vietnam, arrived in the United States in 1975. He enrolled at the University of Minnesota, earning a Bachelor of Science degree in Business Administration in 1981.
Following graduation, Dzung launched a sales career with IBM, earning national recognition as IBM's top salesperson. In 1988, Dzung was promoted to Marketing Manager for IBM's Rocky Mountain Region in Denver. In 1991, Dzung joined Lexmark International as District Manager for the company's Western District, where he assumed responsibility for sales and operations throughout eleven states.
In September, 1996, Dzung was accepted into the General Motors Minority Development Program and also enrolled in the National Automobile Dealers Association Academy. He graduated from the Academy in August, 1997, and purchased Showalter Buick GMC in Goshen, Indiana in October of 1999.
From the start, Dzung focused on employing the best people, developing their skills as sales and service professionals and ensuring that excellent customer service was the cornerstone of the company's operating philosophy. His business strategy quickly reaped dividends. In both 2000 and again in 2004, the company was named as one of GM's Mark of Excellence Dealers. In 2003, Goshen Buick GMC was ranked #1 in GM's Purchase Satisfaction Index and #2 in its Customer Satisfaction Index. The dealership has been recognized as one of the "Buick Select" and by GMC as one of its "Leaders of Distinction" for customer satisfaction and sales performance. In 2004, GMC named the company #8 in the nation for Customer Satisfaction and was rated first in Customer Satisfaction for Sales and Service in September, 2006.
Dzung has received numerous awards for his business success. In 2002, his accomplishments were honored by the Lieutenant Governor of the state of Indiana. Readers of the Goshen News also acknowledgedGoshen Buick GMC as the "Best Auto Sales" provider in Goshen.
Dzung is one of the founders of the Mentor Program with General Motors Minority Dealer Association (GMMDA). He is a member of the Board of Directors of the GMMDA and served as the Association's Secretary in 2006. He continues to serve as a mentor through GMMDA offering assistance and support to other minority individuals wanting to launch careers in the automobile industry.
In 2005, Dzung was nominated to the Board of National Association of Minority Automobile Dealers (NAMAD). He is nominated again in 2007 to serve on the NAMAD Board for an additional 2 years.
In August of 2006, Dzung was awarded a Hyundai franchise in Goshen by Hyundai Motor America. This is the only import franchise in Goshen in over 20 years. He built a new Hyundai facility next to his existing GM franchises. The new Hyundai store opened its door in December of 2006. Goshen Hyundai has been recognized as the best in Customer Satisfaction in the Midwest Region 7 times since 2006.
As a result of Mr. Nguyen's commitment to and involvement in the Goshen community, Goshen Motors: Goshen Buick GMC Hyundai was presented with the Chamber's prestigious 2006 Maple leaf Community Service Award for companies with 50 or less employees in recognition of his exceptional community service. In the Spring of 2014, Goshen Motors: Goshen Buick GMC Hyundai won another Chamber award "Beautification and Improvement Award" for the remodel work done on the Buick & GMC building.
Dzung's commitment to excellence extends beyond his management of Goshen Buick GMC Hyundai. He is equally committed to the health and vitality of the Goshen community and invests himself heavily to this end. Dzung has been actively involved in the Goshen Chamber of Commerce. Dzung served the Chamber as its Chairman during 2007. He is also a long-time member of the Board of Trustee of the Boys & Girls Club of Goshen. Dzung is also active with the Goshen Noon Kiwanis Club.
In 2009, Dzung became a board member of the Community Foundation of Elkhart County (CFEC). And in 2010, Dzung joined the Board of Trustee for the Boys & Girls Clubs of Elkhart County.
In 2012 Dzung was named Asian Car Dealer of the year, by the Decisive Media, later that year Dzung and his staff at Goshen Motors received the 2012 Hyundai Presidents Award This honor was received for being #1 in Customer Satisfaction in the nation with Hyundai. This President's Award was bestowed again by Hyundai in 2013 to Dzung and his staff. In the since the spring of 2014 Goshen Motors was awarded the "#1 Service Satisfactions Hyundai Dealer in the Central Region".
Since 2013, Dzung Nguyen has served as the Hyundai, 8th district Dealer Council Representative, for Indiana and Michigan.
THE THOMAS I. ADKINS RECOGNITION